New Year's Eve at Veganic – a unique menu!
---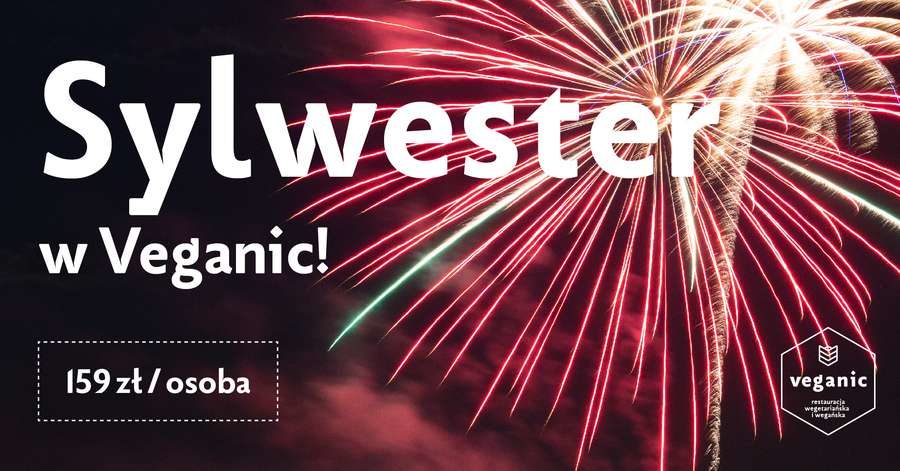 🎇🎆 New Year's Eve is getting closer and closer. If you are fed up with grand balls, loud discos or low-key home parties, then we've got something for you! 🎆🎇 Unique New Year's Eve menu, great company and remarkable atmosphere for 🍾🍾ONLY 159 ZŁ PER PERSON!🍾🍾
For this special occasion we have prepared a five-course tasting menu. We will be serving:
🍾 AMUSE-BOUCHE
Buckwheat pitta bread with baked aubergine mousse, pistachios, marinated beetroot and coriander
🍾 STARTER
Raviolo with butternut squash and cashews, garlic and curly kale pesto, baked pepper emulsion, with the addition of green pea sprouts, herb crumble and chilli olive oil
🍾 SOUP
Minestrone with seasonal vegetables and herbal grissini
🍾 MAIN COURSE
Your favourite- oyster mushroom cutlet, risotto venere with pumpkin and mushrooms, parsnip mousse with peanut butter and tomatoes roasted in herbs.
or… celery steak in nori with stewed boletus, truffle green peas puree, potatoes baked in herbs, charlock sprouts and garlic tulle
🍾 DESSERT
Hot beetroot brownie with edible chocolate soil, raspberry mousse, mint gel and hibiscus powder
For the dancing enthusiasts we have prepared a mini dance floor- of course we will also take care of the musical setting as well as New Year's Eve decorations. If there is a grain of truth in the saying 'As the New Year's Eve is, the entire year is.' Then there is no better option than spending it among our nearest and dearest, enjoying our plant based specialities!
Buy a ticket on: http://veganic.restaurant/produkt/sylwester-2018/